Without Professional IT Support, Your Business is Left Vulnerable
Today's reliance on IT services to run a business is undisputed. The stakes are high, and the risks are real.
Modern, adaptive businesses require experienced support & expert advice to navigate the fast changing IT environment.
If you've allocated someone to do your IT work, here are a few questions you need to ask yourself:
Are they aware of the security risks?
Can they adequately protect your data?
Are they across new solutions?
What happens when they go on leave?
Are they actively monitoring your IT systems?
Do they offer you dedicated IT HelpDesk Support?
Without adequate IT help, your business is left floundering when you most desperately need business grade IT support.
A skilled Managed IT service provider like Cicom can make all the difference to the growth and success of your business. Let us manage your IT support so you can focus on the important things, like running your business.
Enquire Now
IT Support Tailored To Fit Your Unique Business
Engage our IT Support team, reduce your stress and watch business grow.
Cicom

Ops

Disaster Recovery Plans & Execution
Data Backup & Restore
Priority IT Support
IT Help Desk
Proactive Server Monitoring
Workstation Monitoring
Software Updates
Remote Assistance

Cloud

Power

Cloud Data Backup
Cloud Data Recovery
Cloud Servers
Cloud File Sharing
Microsoft 365 & Office 365
Microsoft Exchange Server Management
Microsoft Sharepoint Solutions
Microsoft Teams

IT

Governance

IT Audit & Compliance
On-Site IT Assessments
Implementing IT Strategy
IT Policy
IT Procedure Documention
IT Technology Assessments

Managed

Connectivity

Phone Systems & VOIP
VOIP Servers
Managed Networks
Network Design & Deployment
Virtual Private Networks (VPN)
Firewall Management
Gateway Configuration
WIFI Networks
Domain Management
Websites & Email

Cicom

Security

Cyber Security
Managed AntiVirus
Email Security
Realtime Threat Protection
Protection from Ransomware
DNS Filtering
Content Filtering
Security Awareness Training
Find out more about our flexible, monthly Managed IT support service agreements. Discover how we help you to get the most out of your IT infrastructure.
Enquire Now
Cicom - Your Business IT Support Team
Cicom are backed by dedicated staff that believe in quality solutions for a successful business.
We're here to provide IT Support Services to businesses in Alstonville and surrounding areas.
We're comfortable with flexible, no lock-in contracts.
You'll take control of your IT assets with our support.
Enjoy responsive support & HelpDesk access.
You'll receive priority onboarding.
Flexible contract reviewable by you at any time.
We're local so we can also visit you at your business location.
Why choose Cicom as your IT Support team?
We look to understand your business better by listening carefully to your needs, comprehending your business workflow then responding with well-devised IT plans & strategies.
We are a local Northern Rivers business with a focus on providing professional and affordable services to local businesses.
Let's move together – it's better for business.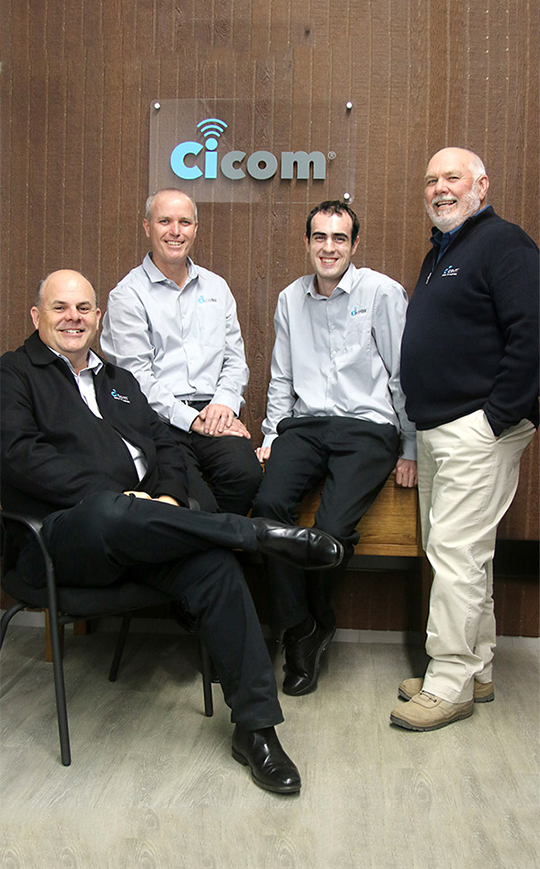 CICOM's team of skilled IT Support technicians.
Frequently Asked Questions
Answers to common questions about our IT Support Services
Why would a business need IT Support?
Technology moves quickly and what was relevant yesterday is old-hat today. Modern, adaptive businesses require experienced support to navigate the fast changing IT environment.
Asking your staff to take on the responsibility of your IT issues distracts them from the core reason you employed them in the first place.
When you outsource your IT support to a team of professionals, you can get on with what you do best whilst we look after your IT infrastructure.
What are Managed IT Services?
Think of us like your internal IT team who is there to reduce/eliminate downtime and ensure your IT systems are online and operating at peak performance.
Managed IT services are designed to take the worry and hassle out of managing your businesses IT systems. Through an IT service agreement, we'll provide on-going IT support for a fixed monthly fee.
Outsourcing your IT includes things like proactive monitoring and maintenance, priority help desk support, cyber security, server management, data backup and keeping your businesses IT systems operational.
What are the benefits of using Managed IT Services?
Efficient IT support will keep your business online and minimise downtime.
Maximise your businesses productivity and increase profits through our innovative IT solutions.
Gain access to the latest technology for the benefit of your business.
Hiring in-house IT staff or an IT team can cost a fortune.
Save time with experienced help desk and technical support always available.
Contact Us
With a broad and dynamic client portfolio we're committed to the prosperity and success of our clients in Northern NSW.
We deliver IT support services for Medical Clinics, Pharmacies, NGOs, Food Processors, Agribusiness, Accountants, Real Estate Agents, small business ventures, retailers and more.
Phone us on 1300 324 266 or book a free IT assessment today.